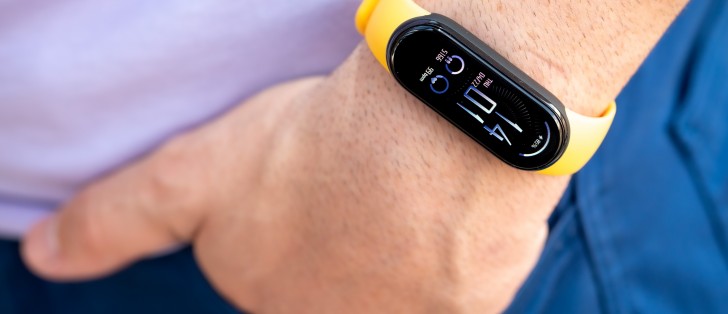 Introduction
Xiaomi's Mi Smart Band, or just Mi Band as it's known in China, is undeniably one of the most popular wearables across the world. It's small, lightweight, and super cheap, yet it aims to do a ton of stuff.
Last year the Mi Band 5 brought a larger OLED screen and a magnetic charging - two major upgrades over the Mi Band 4. This year the screen sees an even bigger boost with an edge-to-edge full-color OLED.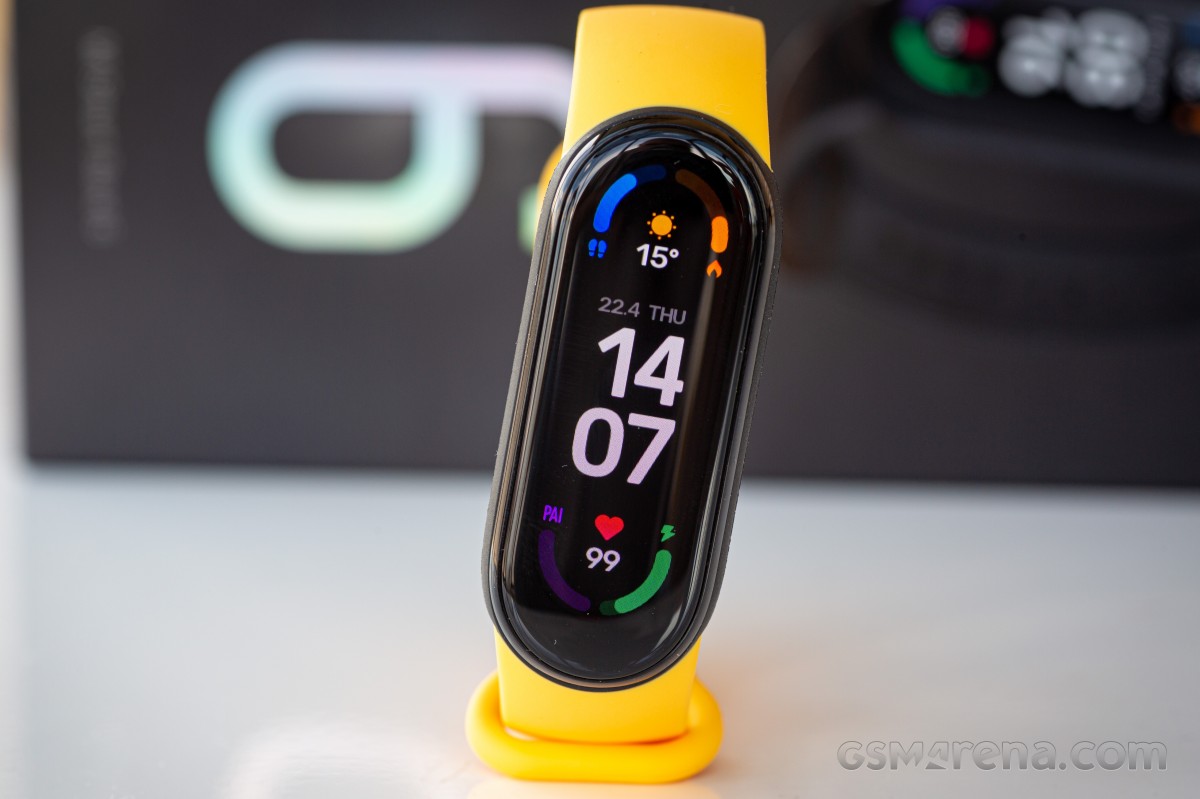 Meanwhile the global pandemic made the pulse oximeters (SpO2) a must-have and the Mi Band 6 is keeping with the latest trends by adding a blood oxygen level monitor of its own.
Unboxing
The new Mi Band 6 comes packed within the same long and thin paper box as the previous version. The bundle contains the band itself, one strap (black in our case), and the same magnetic charger as the Mi Band 5.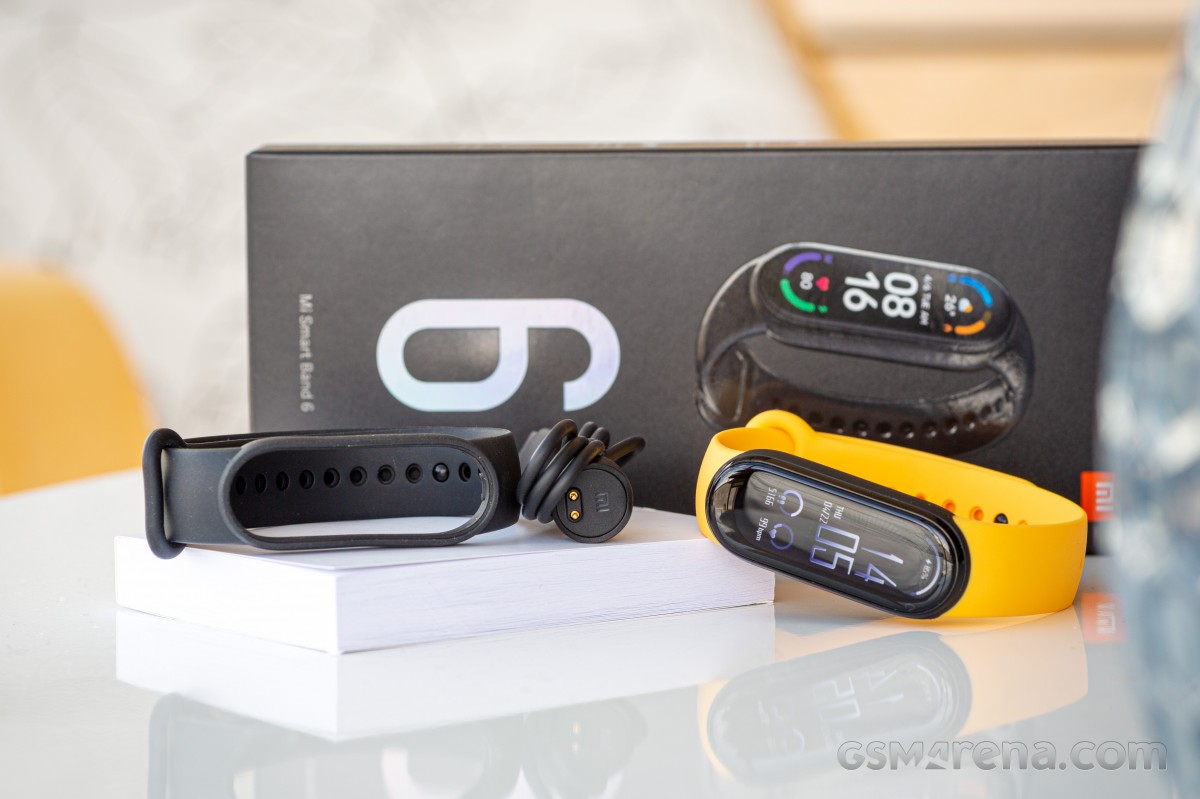 Oddly, half of the space inside the box is wasted to an unbelievably thick manual. We haven't seen such, shall we say a book, in a while!
Design and strap
The Mi Band 6's body is identical in size to the Mi Band 5 - it's the same tiny piece of plastic and with tempered glass atop the screen. The size and weight remain pretty much the same - 47.4 x 18.6 x 12.7 mm and 12.8 grams (vs. 46.95 x 18.15 x 12.45 mm and 12 grams). And that's great news for two reasons - the new features didn't make the Mi Band bigger, and all straps you bought for your Mi Band 5 are compatible with the Mi Band 6.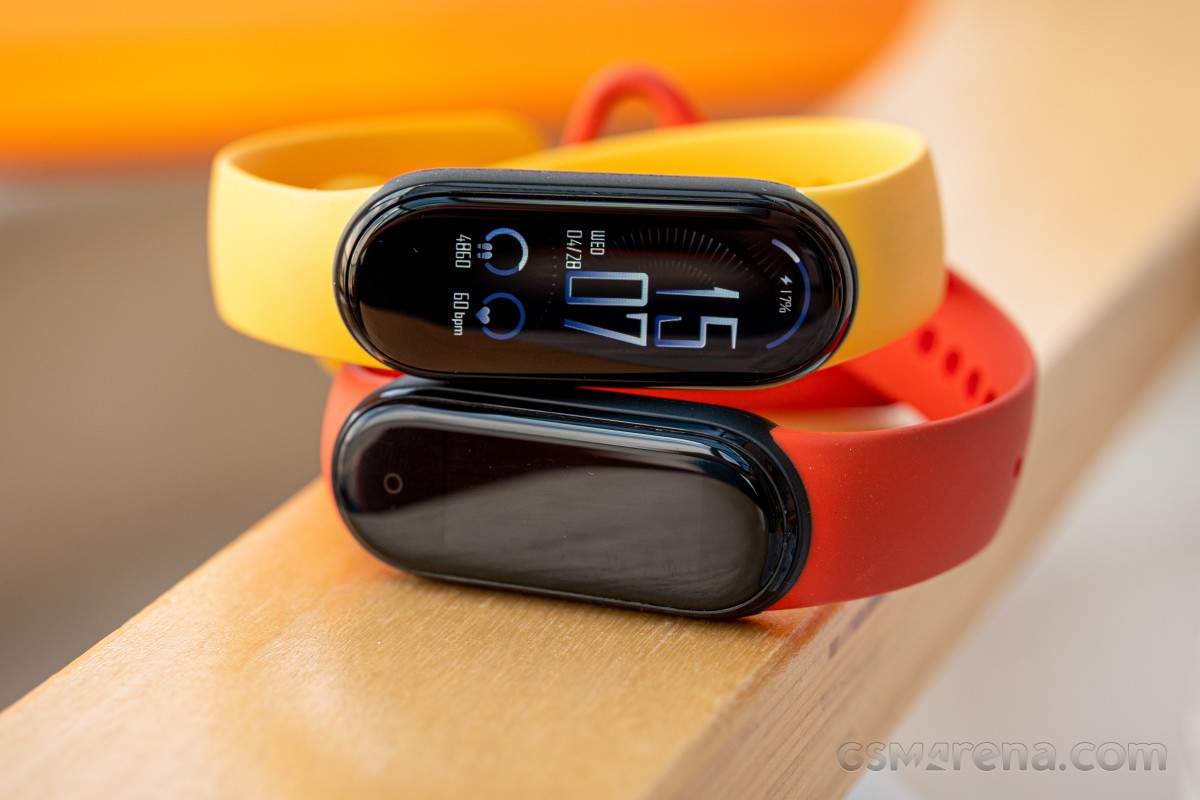 The major upgrade is the display - it's now a 1.56" AMOLED screen with sharp 326ppi resolution (152x486 px) up from 1.1" (29x126 px, 326ppi). It's an edge-to-edge panel with the same shape as the band, including the round top and bottom.
Having an all-screen front means there is no touch-sensitive key. The whole display is capacitive and you either swipe (in all directions), tap, or tap and hold to operate with the band. We found ourselves reaching for this missing key occasionally when we wanted to go back to the watch face, but in a week or so this habit was gone.
The screen glass seems to be as susceptible to scratches as the Mi Band 5's, so if you hope for a tougher one, we'd have to disappoint you.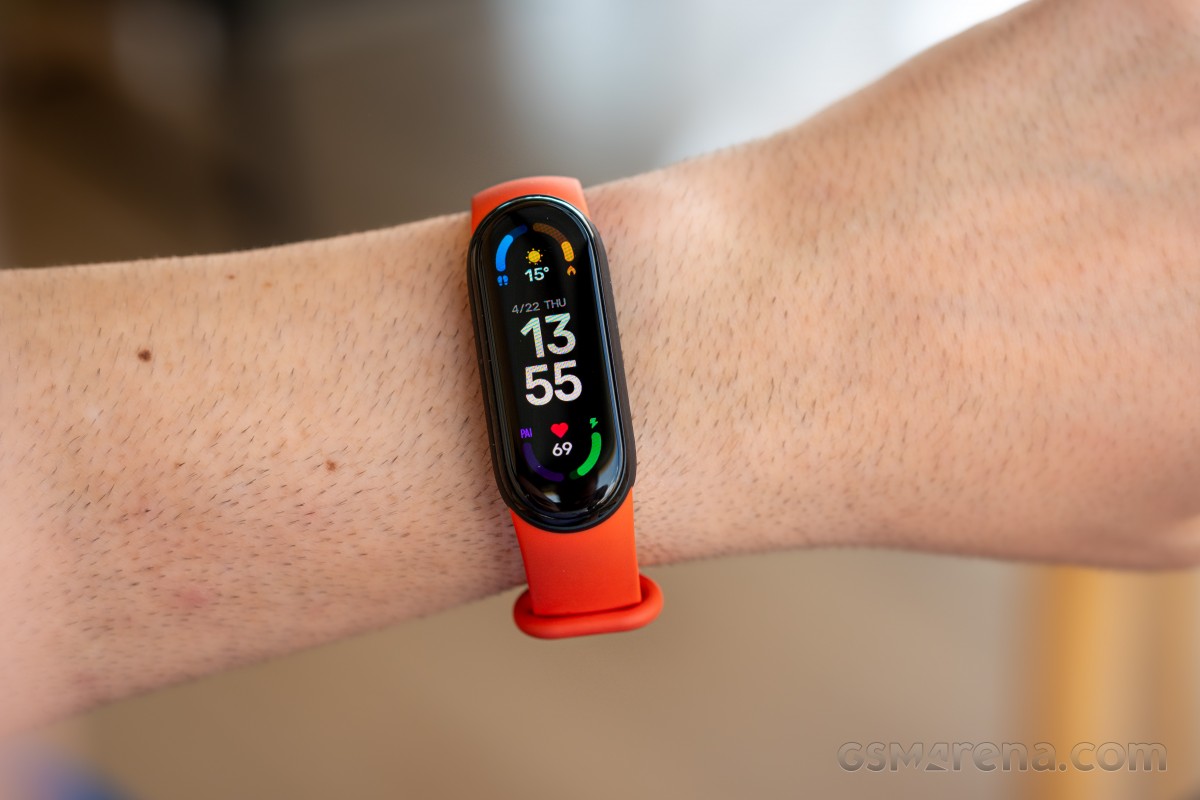 The sensors at the bottom of the Mi Band 6 have different arrangement but are equally thin. The heart-rate sensor has been upgraded with the ability to monitor SpO2 (blood oxygen) and that's probably why the bottom looks different. You can also spot the pogo charging pins.
The indentations around the rubber strap are still here and they will accumulate dirt over time, and we suggest cleaning these on a regular basis to avoid rashes or worse. It sure isn't ideal, but it's not a headache either.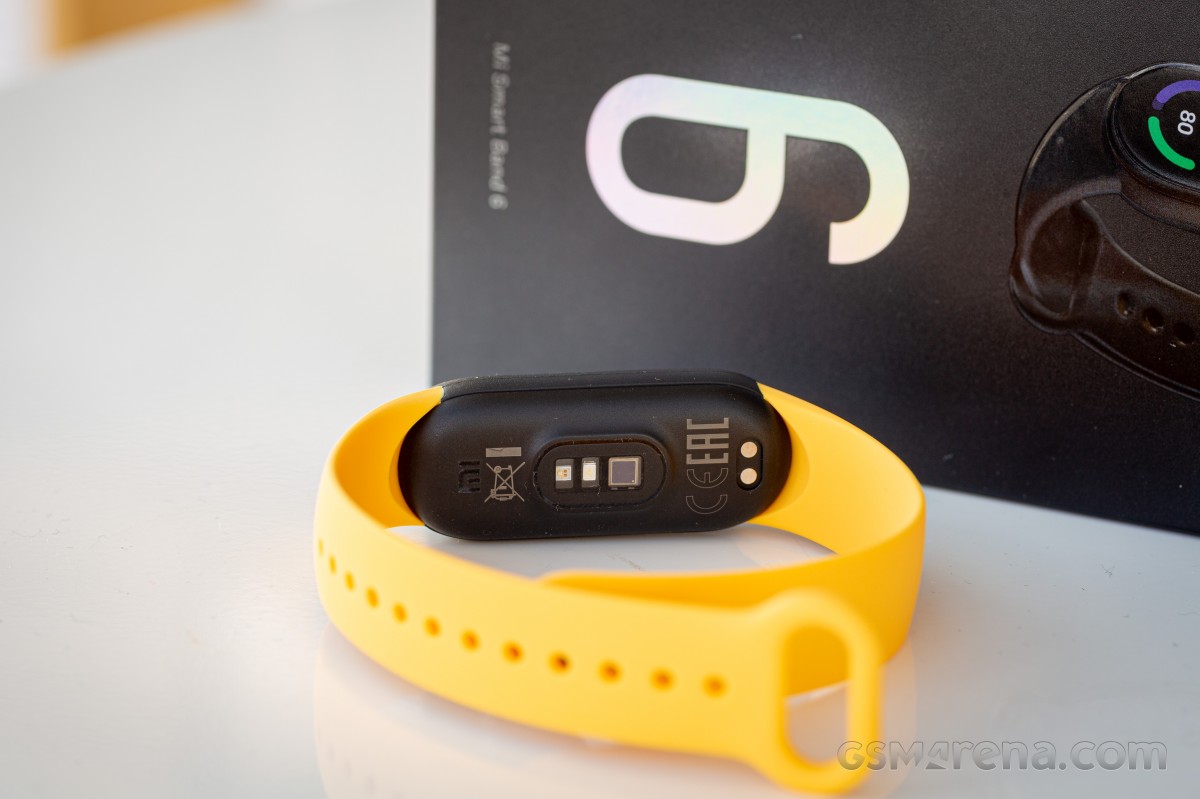 Finally, the Mi Band 6 is as protected as the previous model - it has a tempered glass to keep the screen safe and the whole thing is waterproofed at up to 5ATM. We've tested one Mi Band 5 at sea water, and it survived, we've seen another one die upon submersion and then come back to life when hooked on a charger, and we also killed one of these. But when it comes to showering and pools - we've never had issues with the Mi Band 5 model and so far, the Mi Band 6 is holding pretty well, too.
Features and interface
The Mi Band 6 works with the Mi Fit app and the core functionality remains unchanged - it can do heart-rate measurements, sleep tracking, sport tracking, show notifications, act as a camera shutter, control your default music player, has the usual alarm/timer/stopwatch functions. PAI - Personal Activity Intelligence mode and Stress calculations are also present.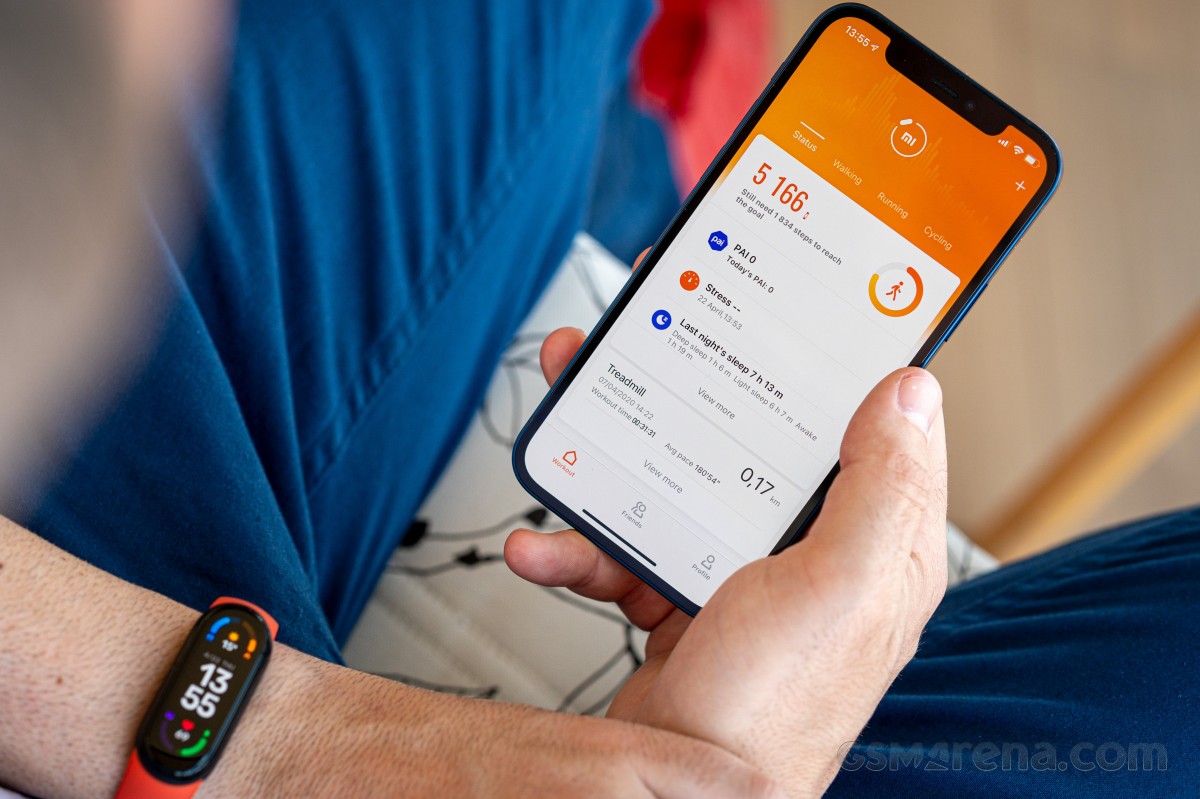 Just like the Mi Band 5, the Mi Smart Band 6 can also track female cycles. Breathing exercises are available as well.
Now, this new Smart Band 6 also offers SpO2 measurements and even more sports modes. It improves the sleep tracking with SpO2 measurements and breathing quality options, though these two reduce the battery life significantly. If you enable HR, SpO2 and breathing quality during sleep, you may need to recharge your band every three days or so.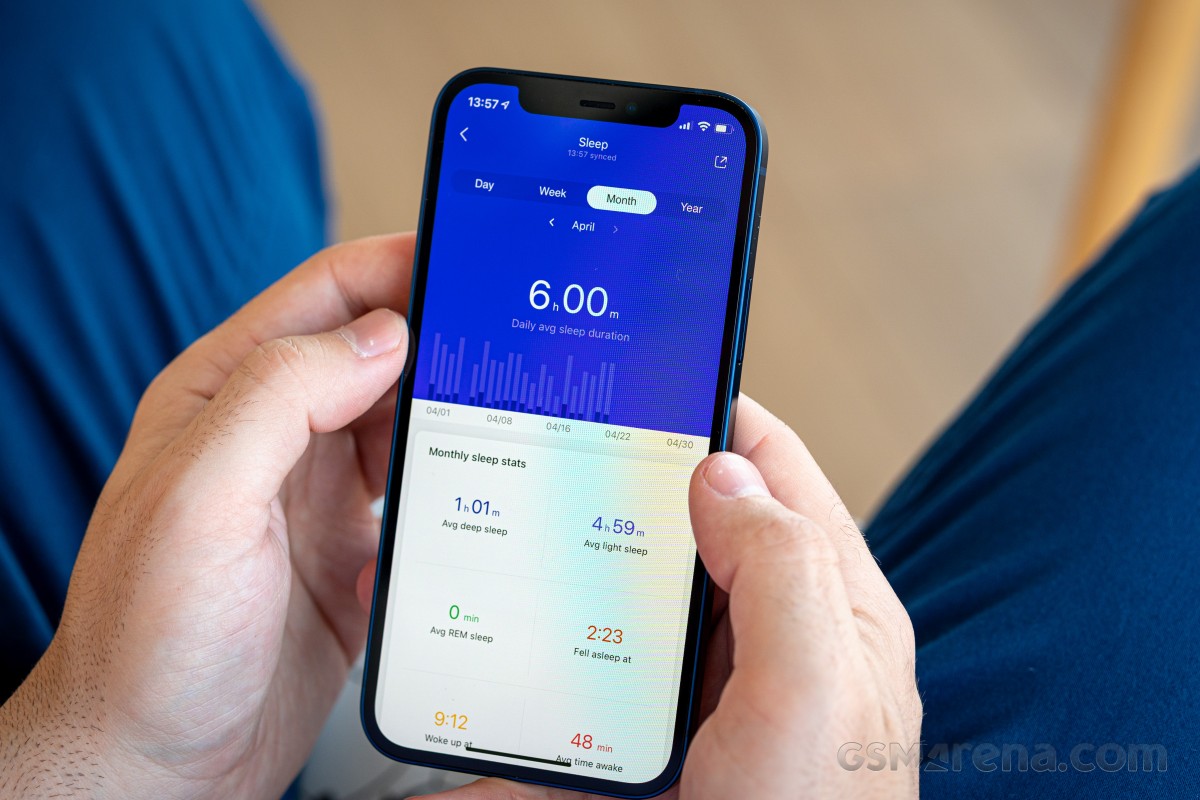 The interface of the Mi Band 6 is a familiar affair but spread over a larger screen. You get plenty of watch faces in the Store section within the Mi Fit app, but nearly half of the faces are tailored to Asian audiences and will be unfamiliar, if not outright confusing to the Western users. Still, there are enough to choose from and the best part is that you can always make it yours by choosing a layout of your liking and putting a custom background.
The Mi Smart Band 6 has no button, so it relies solely on swipe gestures for navigation. Swiping up or down on the watch face brings the main menu with Status (steps, distance, calories), Heart Rate, SpO2, Notifications, Workout, Events, Alarm, Weather, Music, World Clock, Settings and More (containing Stopwatch, Timer, Find Device, Camera shutter).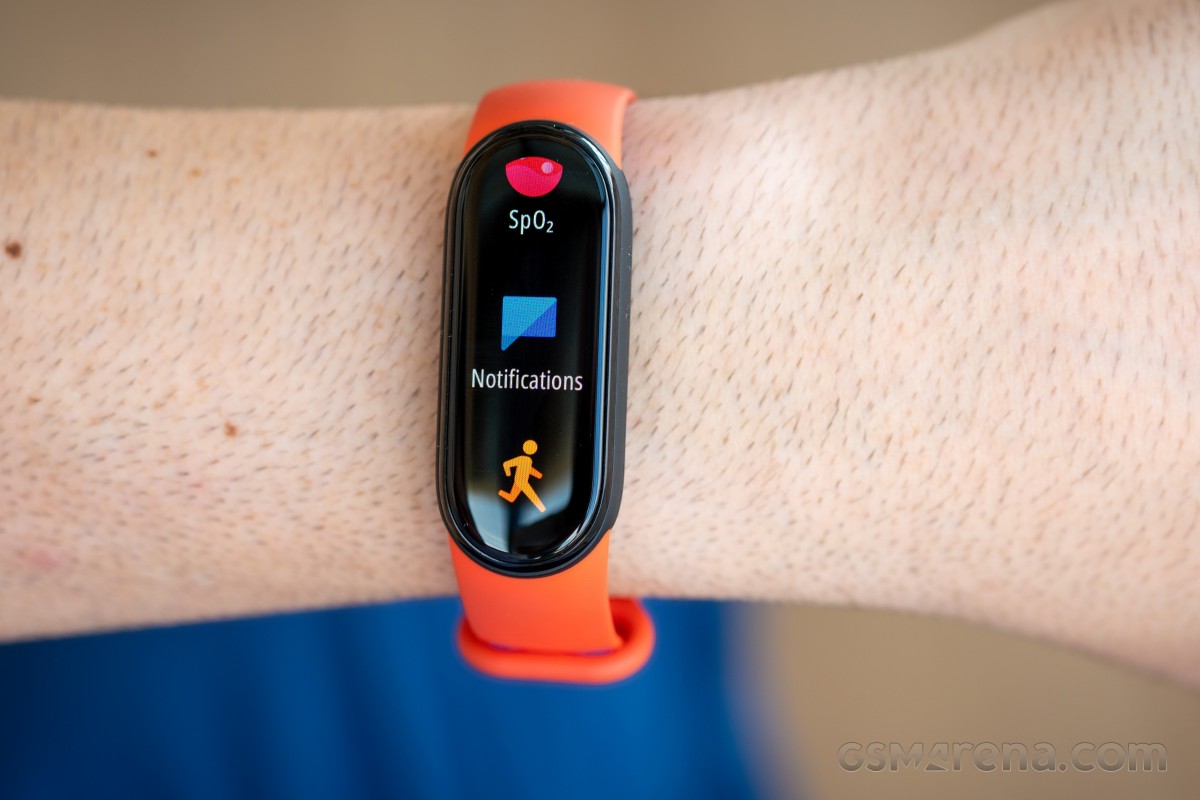 Swiping left or right on the watch face cycles between a few shortcuts you can customize - for example, weather forecast, music shortcuts, camera shutter.
Previously, the Back/Home function was handled by the touch key. Now, you need to swipe from the left to go back. Coming from a phone it's intuitive alright, but if you've used the Mi Band 4 or Mi Band 5 a lot, it will take some time to stop tapping on the missing key.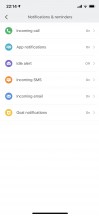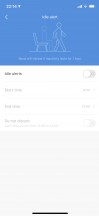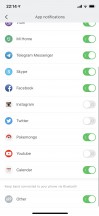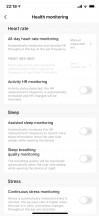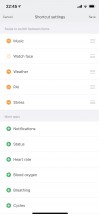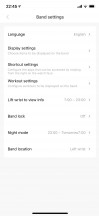 Notifications • Notifications • Notifications • Sleep tracking • Options
The Mi Smart Band 6 supports all sorts of notifications - emails, incoming calls (with reject option), SMS, emails, Idle alerts, Goals, and can show most of the third-party notifications such as Telegram, WhatsApp, Facebook and Messenger, Skype, Instagram, Twitter, YouTube, Calendar, games like Pokemon Go, Mi Home app, and many more.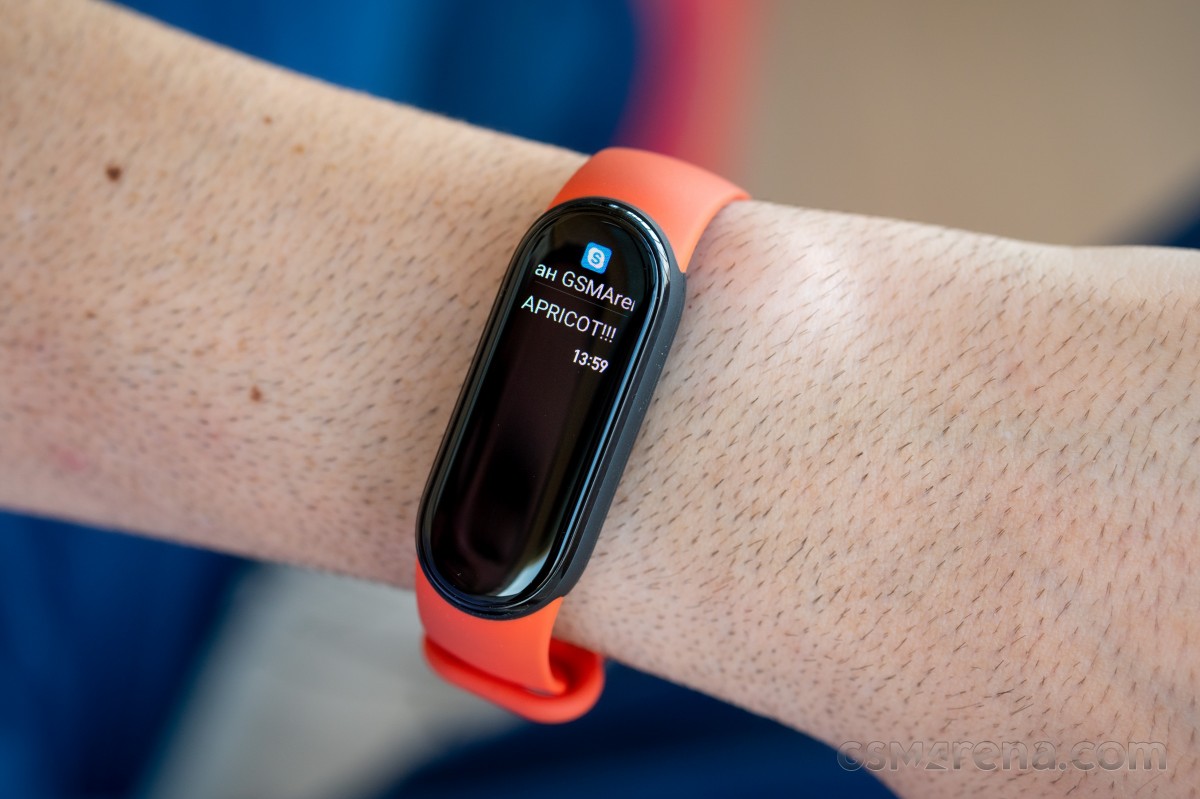 The Mi Band 4 was the first to support non-Latin symbols, like Cyrillic, out of the box without any tweaks. And now, the Mi Band 6 supports a basic set of emote icons. This means it won't show all emotes but the most basic ones, and it depends on the app, but it's better than nothing. Those ??? symbols appearing instead of emotes are now occurring less and we'll gladly take that.
The Health Monitoring is expanded. You can set the band to measure heart rate at intervals throughout the day and alert you if something is not looking good. It can also increase the said interval if it detects sport activity.
There is assisted sleep monitoring, in addition to the regular sleep tracking, which increases the HR measurements. You can also enable Sleep quality tracking, which captures your breaths during sleep but has a huge impact on battery life.
Continued Stress monitoring measures Stress every 5 minutes, and you guessed that right, it also reduces the battery life big time.
The Mi Band 6 is indeed really good in doing these things - showing notifications all day long (there is DND mode or Night mode, of course), and its heart rate and SpO2 sensor are pretty accurate - we tested it against a regular oximeter and the deviation was less than 5% in 9 out of 10 times (it really depends on how good you've tightened the band.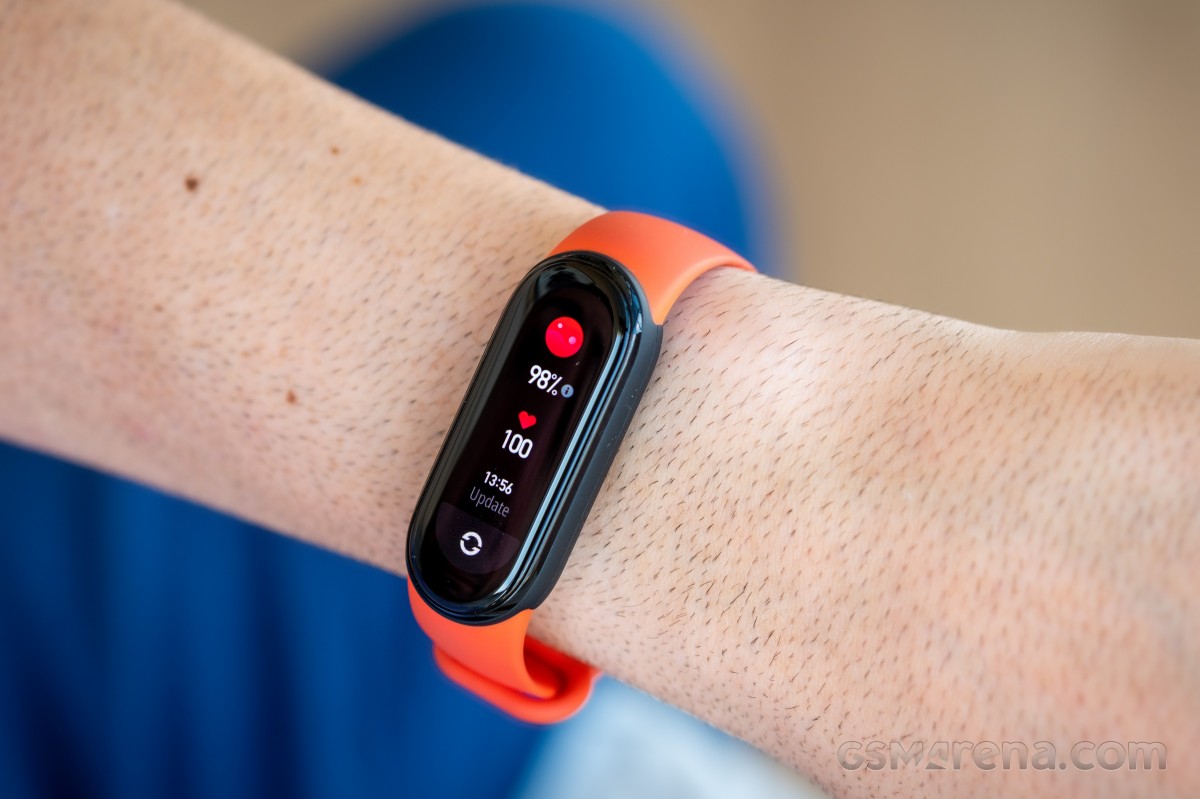 The sleep tracking isn't that accurate, though. It gets the REM sleep right, as far as we can tell. But the light sleep is a bit of a mixed bag - if you were having an insomnia episode but lied still, these parts will be often marked as light sleep. And even if you got a total of 2 hours of sleep at night, you'd see, say, 7 hours captured from the Mi Smart Band 6. That's an issue we had with the previous Mi bands, too, so it's not like the new one is worse.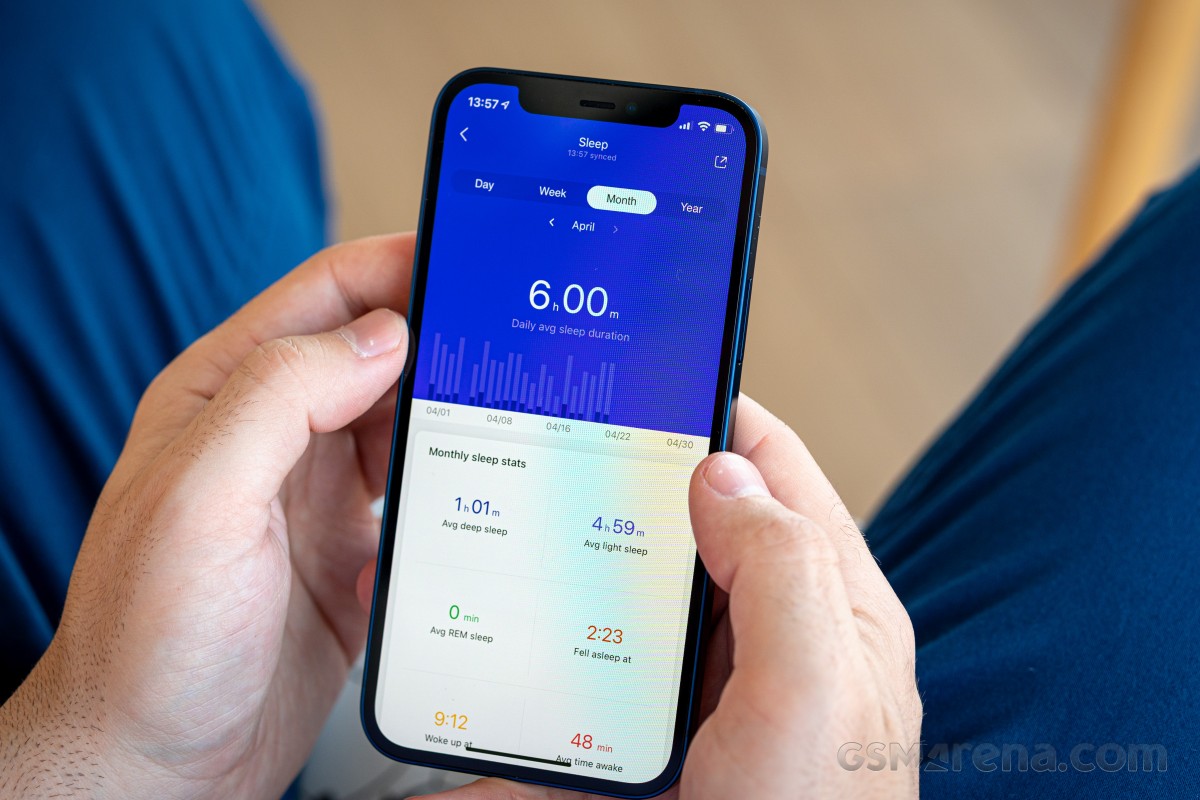 Now, let's talk about workouts. The Mi Band 6 supports a total of 30 fitness modes - including new ones such as Basketball, Zumba, Boxing, HIIT, Pilates, Ice Skating, Street Dance, Badminton. There are six modes that are automatically recognized - Walking, Running, Treadmill, Cycling, Elliptical, Rowing Machine. Indeed, the Band did know when we used the Treadmill and when we were outside, so it seems these work as promised. For the rest 24 modes you'd need to activate them manually. What you get from the Workout tracking is time, accurate information for your steps, kilometers, calories, HR, etc.
Finally, we want to mention the PAI, Stress and Breath functions. PAI is personal activity index calculated based on continuous HR measurements for 60 seconds. It's a feature that encourages you to do better but given its algorithms we are not sure it's that reliable. Same goes for stress - it uses HR measurements and accelerometer to track your hand movements for 60 seconds. It sounds alright but we found its readings rather inaccurate.
We liked the breathing feature though - it's rather simple and but it does help with stress - there is an animation and a quick buzz that tells you when to inhale and exhale.
There is one MIUI exclusive feature - if you have a MIUI-running phone, you can setup the Mi band 6 to unlock your phone and bypass your passcode/fingerprint/face security.
Battery life and charging
The Mi Band 6 has the same 125mAh battery as the Mi Band 5. Xiaomi promises the same battery life - around 2 weeks of normal usage.
In the first 15 days of our testing, we recharged the band twice, meaning we got a full week of battery life with the same routine we had with the Mi Band 5 but with regular HR measurements (every 30 minutes). It includes a ton of notifications during any workday - Skype, email, IMs, etc., at least 50 time checks, and using standard sleep tracking function (no HR, no breath tracking).
Then we tested with the heart rate turned off entirely and we got about 18 days of battery life - about 4-5 days down from our usual Mi Band 5 battery life. Sounds about right given the larger screen.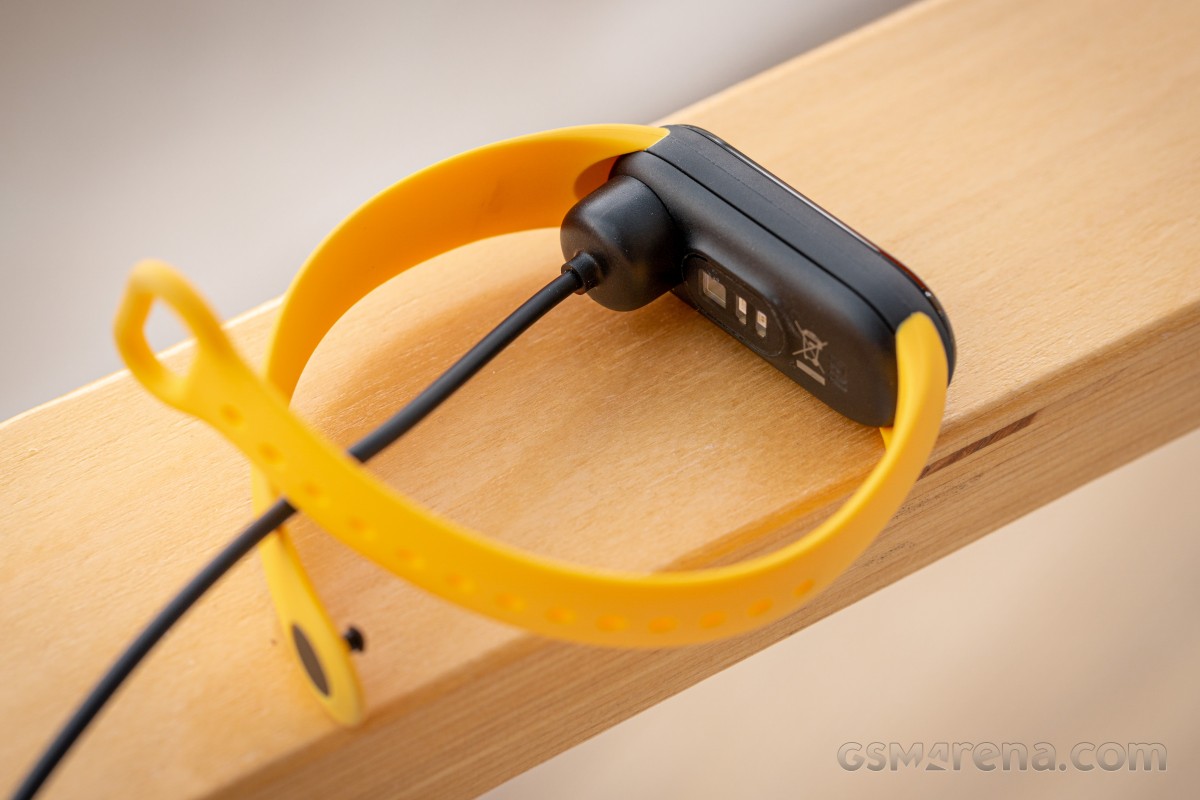 Using the heart-rate sensor and the screen is taking its toll, obviously, but still - the Mi Band 6 provides great battery life for such a small device. And it's not all-day battery life, it's an all-week or even two weeks, depending on your personal usage. If you workout more and track your HR a lot - you can expect one week, which is still pretty good. If not, you may not even remember when the last time you recharged it was.
Finally, the Mi Band 6 requires about 2 hours to recharge from 5% to 100%.
Conclusion
The Xiaomi Mi Smart Band 6 sure seems like a worthy upgrade over the Mi Band 5. It has a larger edge-to-edge display, supports SpO2 tracking and in COVID-times this could be reason for upgrade on its own, and it doesn't change the design or the strap size, so you can use all those colorful bands you bought for your old Band.
The Mi Band 6 costs €44.99, which is €5 more expensive than the Mi Band 5 at launch. That's not a lot considering the larger screen and the new sensors. And it's still one of the cheapest bands around, with a vibrant community to supply watch faces and plenty of features.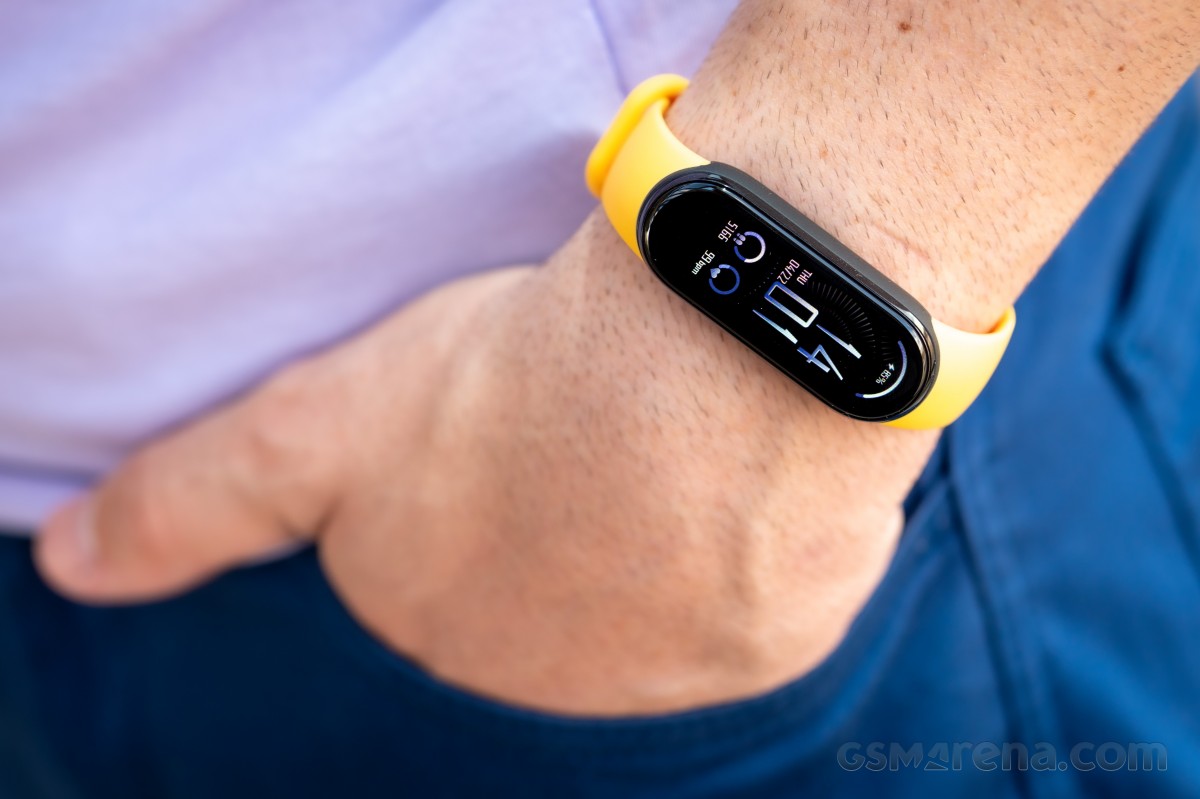 Once again we don't get an NFC option on the Mi Smart Band 6 - the feature once again reserved for the Chinese model. We do hope Xiaomi overcomes whatever is preventing it from making an international NFC-enabled band and delivers one soon.
The Mi Smart Band 6 is a cheap wearable, so don't expect it to dramatically improve your health on its own. Then again, neither will the latest Apple Watch and its Fitness+ paid service. But at its price we'd sure describe the Mi Smart Band 6 as an overachiever. It has most of the functions much more expensive smartwatches brag about, and yet costs a fraction of their price. It's also way more compact, lightweight, and the battery life is amazing - a week, or two weeks is something no smartwatch can offer (with the same routine as the Band) unless it goes into some battery saving mode.
Whether you are coming from a Mi Band 4 or 5, we'd suggest an upgrade to Mi Band 6 when you get a decent deal in your market. And if this is going to be your first Mi Band or first smart band ever, you won't be disappointed